Where Quality Air Matters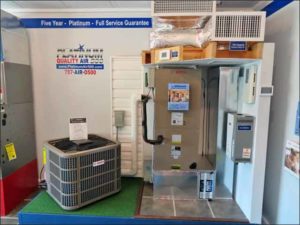 For over eighty-four years we have provided Platinum Service to Peninsula Homeowners.
We repair all major brands such as Amana, Goodman, Carrier, Trane and York. We guarantee that all repairs will be done right, or the repair is free. CLICK HERE for a complete list of brands that we service.
Your heating and air conditioning system requires regular maintenance that will keep it running efficiently, make the system last much longer and save you thousands of dollars in the long run. Quality HVAC equipment is designed to last for many years, but without regular maintenance, equipment can fail in just a few years.
Our experienced technicians will provide quality service and diagnose any problems with your heater or air conditioner. They will keep you informed. when the problem is found, solutions will be shared with you, and will be taken care of right away. We want you to be 100% satisfied with our services.
PLATINUM QUALITY & AIR 500
1715 Kecoughtan Rd.
Hampton, VA 23661
757-247-0500